Jen Lauer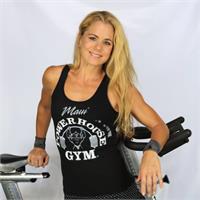 FITNESS INSTRUCTOR / Group Fitness Director
AFAA/NASM Certified Group Fitness Instructor
Certified Barre Above Instructor

Fitour Certified Group Fitness Instructor
Fitour Certified Indoor Cycling Instructor
Fitour Certified Personal Trainer Specialist
Certified Corepower Yoga
Certified PiYo Strength

Certified Silver & Fit
Certificate from Afterglow Yoga for the ShaktiRize Teacher Training Program
NFPT Fitness Nutrition Specialist
NFHS National Federation of High School Association
Certification in Fundamentals of Coaching
Certification in Concussion in Sports
CPR & AED Certified
Jen Lauer instructs the following:
Restorative yoga focuses on gentle stretching, using straps and blocks to assist holding positions more comfortably. Excellent muscle tension release for the athlete. Appropriate for all levels, prepartum, postpartum and rehabilitative. 50 Minutes | Intensity Level: 1




More intensity, more strength, more cardio, more endurance using the step platform. This class combines simple step moves with strength and endurance training, you execute one calorie killing body conditioning workout. Moderate to high impact.

Intensity: 3 to 5




This cycle class starts with the beat then combines core work, cardio conditioning, choreography, a song with weights and a ton of team spirit! Join Jen for CycleCore four times a week to get fit in a flash! All levels.




Powerhouse has re-invented the standard body sculpt into a full body workout for the beginner and the experienced, focusing on technique, posture, and breathing. Using light weights and moderate repetitions, you focus on how your body functions in resistance training. Non to low impact. 50 Minutes | Intensity: 1 to 3




Release the dancers body inside of you. An elongated, lean, and fit physique using barre workout techniques. Combining the fat burning stimulation of interval training, the muscle shaping technique of isometric repetition, and the elongating principles of dance conditioning, you are now doing a workout that safely reshapes your entire body and posture.




50 Minutes | Intensity: 2 to 4




Flow Yoga uses postures and conscious breathing in combination with mental focus to develop awareness, strength, flexibility, balance and relaxation.

75 Minutes | Intensity Level: 1 to 3




Find your Holiday Cheer with Lot's of Gear! Join Jen for this 2hr calorie burn CycleCore style.

Our team will be donating to Toys for Tots this holiday season. Please bring your gift or money donation to any CycleCore class in the month of December for a Maui tot or teen. Lets get our Maui kids movin! Athletic toys encouraged!!